November 21, 2018, 11:17pm
2018 is drawing to a close and I just turned 33 (over a month ago). I'm back in SoCal for the week and in a reflective mood. 32 was a challenging year but also very rewarding. Here's a summary:
Oct 17, 2017
My 32nd birthday.
32 was significant for many reasons. It's 100000 in binary, which meant I could no longer count to my age on one hand. It's also the start of the second year in the prime range of 31-37.
Godai
On this day, I also published my first mobile app: an iOS/Android puzzle game called Godai. Godai evolved from a weekly game experiment published exactly one year earlier into a full stack, multi-layered mobile game. I'd continue to work on it throughout the year.
Nov 24, 2017
NYC Hike
I'm spending this Thanksgiving with my family in LA but for the last two years, Lutetia and I had spent the holiday with her sister in Brooklyn.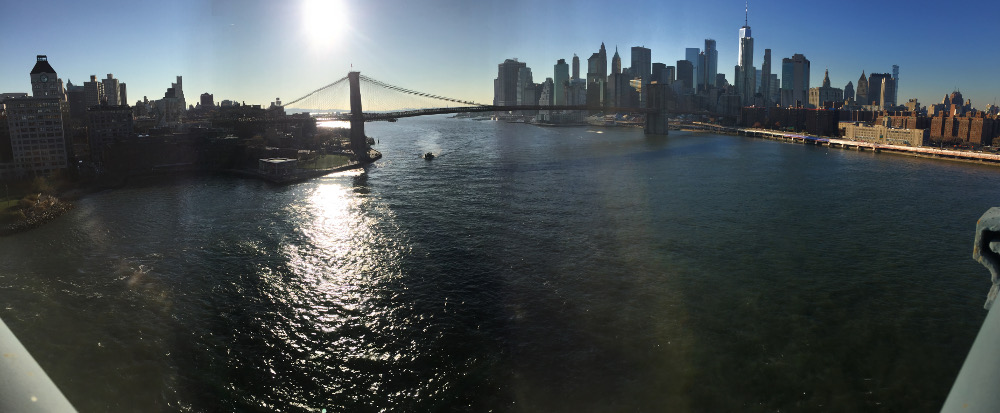 NYC from the Manhattan Bridge
This time last year, I hiked 29 miles from Brooklyn to Harlem and published a photo blog of the experience. This was a fun day and even New Yorkers have told me they found the post interesting, which to me is the greatest compliment.
Jan 1, 2018
Got engaged!
Ring
Designing the ring was a long process but I wrote about that already. The actual proposal was supposed to happen in Lake Tahoe on New Year's Eve at the stroke of midnight but I was brought down by stomach troubles. Then, we were supposed to leave Tahoe early in the morning to be back at my parents' house for a New Years sushi feast but our rental car wouldn't start and we were stranded in Lake Tahoe at 4am.
Proposal
In the end, I pulled over to the side of the road at my favorite spot in the world (Berkeley Marina), got down on one knee and proposed. Despite an exhausting, chaotic night, it worked out :)
Feb 28, 2018
China Trip
Shanghai
Within a few days of Godai's release, I realized that the initial vison as a competitive, precision puzzler was unsustainable. The puzzle gameplay is fun, challenging and holds up well after multiple plays (I still play almost every day) but with a few exceptions, people just weren't that motivated by high scores.
Godai Flower Prototype
I added features for more casual players like a flower growing mechanic. The elements needed to grow a plant -- earth, water, fire/sun and air -- fit perfectly with Godai's elemental theme. As I studied the science of plant growth I also found myself exploring philosophy and history of the elements for inspiration. This is a deep subject deserving of its own post but China was the perfect setting for this exciting exploration period.
Also on this trip, Lutetia captured the top score on the Godai leaderboard: a position she still holds today. I was sitting next to her on the subway as it happened and it was quite exciting. When I released the game, I offered a $100 bounty to anyone who could beat either my best score or speed. As promised, she earned the prize for beating my score. The speed prize is still up for grabs so anyone can earn $100 by passing my record (currently speed 54) on Godai.
Mar 14, 2018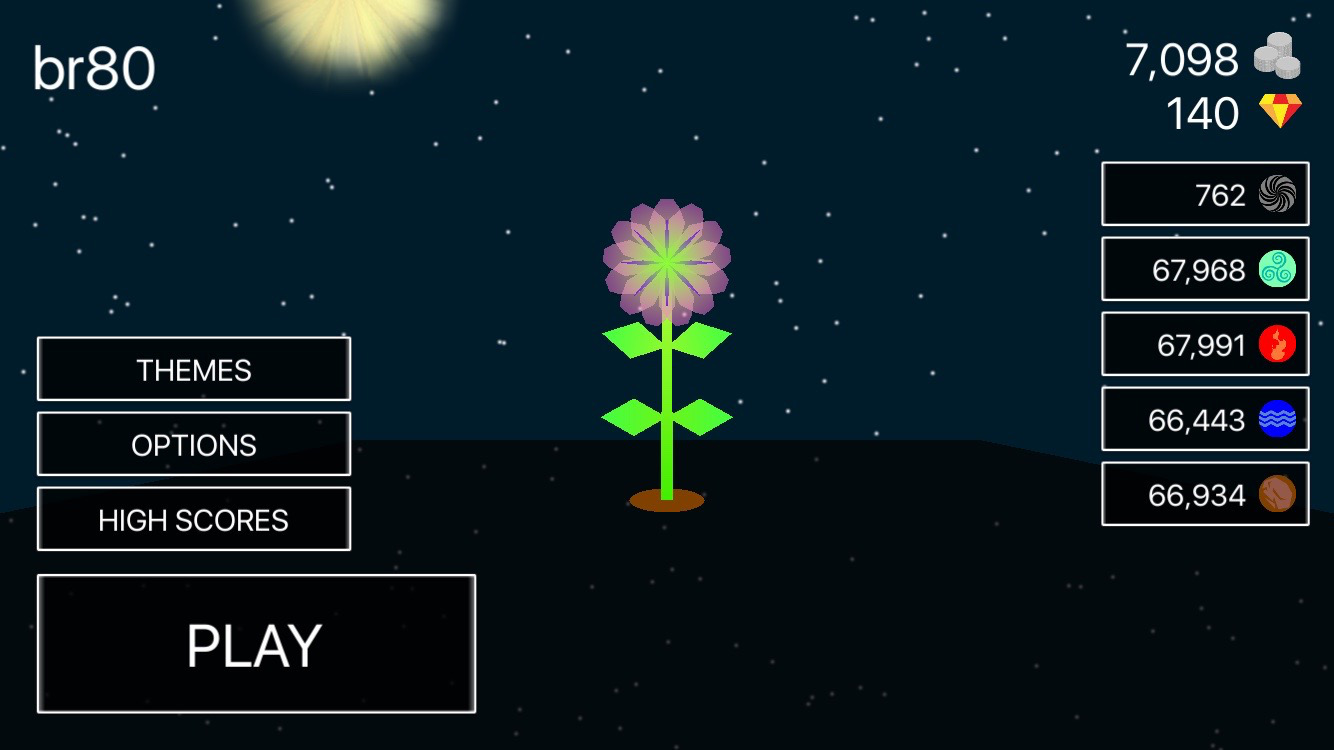 Godai Flower v0.1
I quietly launched the flower reboot on Godai on March 14, 2018: exactly 10 years from the day I left Pixar to work on Equatia. The original plan was to make a big launch announcement but I didn't feel that the flower was ready for wide exposure. Also, I was competing with other events like Pi-day and Stephen Curry's 30th birthday. So, while this was a huge landmark for me, I left it as a stealth launch.
May 28, 2018
Celebrated my grandpa's 100th birthday!
100 push ups
To mark my grandpa's 100th birthday, I did 100 judo-style push ups at Nishi Hongwanji: the temple where my grandpa has spent years tending the garden and doing all sorts of other work. Even at 100, his body is still strong and healthy. His memory isn't great anymore but he still punches my shoulder when I see him and I think he appreciated the push ups. My form will be better next year for 101.
Jun 14, 2018
:'(
Trying to do too many things at once in a rush, I balanced my laptop on top of a small surface and it fell. I caught it with one hand, but the screen bumped against the wall and a nasty crack appeared on the screen. I carried this laptop around with me everywhere for four years, including pushing code nearly every day for the past two, before it met this terrible fate.
Coding this past year
The gap is from the broken screen
The computer still runs fine and I still use it to this day by plugging it into a monitor. I wrote a long blog post about the laptop when it happened but accidentally deleted it without saving, because I was in a rush. Bitter irony, lesson learned.
Aug 6, 2018
Joined Lambda School as a Computer Science Instructor
Lambda School is a coding bootcamp. Unlike other bootcamps, which cost beween $12k-20k for three months of instruction, Lambda School is free (!) upfront. Only after seven months of instruction and landing a high-paying job (over $50k/yr) does the school take a percentage of their salary (17% over two years, capped at $30k). If the student doesn't find a job, they pay nothing.
First of all, I think the ethics of Lambda's pricing model are terrific. Unlike typical bootcamps, ALL incentives are aligned toward the same goal: Train qualified students and get them great jobs. In this era of mounting student debt and millenial/post-millenial malaise, Lambda's model is nothing short of revolutionary. Also, Lambda School spends months teaching foundational concepts like algorithms, data structures, time/space complexity, graph theory, memory/pointer management, and many other foundational computer science topics. Other bootcamps may teach a student how to use JavaScript objects (aka hash tables) but at Lambda School, students go as far as implementing them in C.
Lambda School is a special organization that I'm proud to be a part of.
Oct 17, 2018
My 33rd birthday
33 at Dan Sung Sa
Getting older has its challenges but also a few benefits. For example, my metabolism may be slowing down but I've also acquired the patience and discipline to start, and stick to, a regular diet. Moving to Cleveland also helped, since I'm no longer surrounded by the culinary majesty and temptation of California.
By eating mostly eggs, meat, veggies and lentils, I lost almost 30 lbs, which I didn't even know was there in the first place. My blood pressure, which had always been high, dropped 20 points right into the healthy range. I also learned the joy and ecstacy of cheat day.
After two weeks in China and a voracious summer in Los Angeles, I gained about half of the weight back. After summer, I settled back in Cleveland and brought my weight back down but I'd injured my back in LA and wasn't exercising much. The high-fat diet not being burned for energy caused my cholesterol to skyrocket to dangerously high levels.
Cholesterol friendly
I removed red meat, eggs and butter from my diet and replaced them with cashews, chicken and salmon. My back also healed so I was able to start running again. Every Saturday, I ate 70+ pieces of sushi at Kintaro (a very important component of the diet). By October, my cholesterol was back to normal. Just in time for Lutetia and I to eat our way through Berkeley and New Orleans for two weeks.
In Conclusion...
I didn't hit all of my goals this year (Godai update coming soon, I promise!) but it was a productive year, nonetheless. Here's hoping I can top it again this year.
One month in and already destroyed Kefka.
33 off to a good start.
---