November 27, 2017, 1:01pm
Lutetia and I spent this Thanksgiving, like last year, with her sister in New York City. It's no secret that I love New York so when I found myself on my own this Black Friday while Lutetia was out with her sister, I embarked on a mission to walk from our AirBnB in Bed-Stuy (the Brooklyn borough notoriously home to Jay-Z and Biggie Smalls) to Manhattan, and beyond.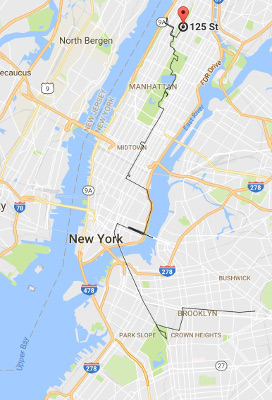 Route from Bedford-Stuyvesant to Harlem
In total, I walked 29 miles from 197 Hull St, Brooklyn to 125th Station, Harlem, then took the A-train 29 stops back to where I started.
Air BnB, 197 Hull St., Brooklyn
11:34 AM
I started the day by sleeping in, watching online GDC lectures and pushing some code for the day. I left my Air BnB around 11:30am.
I wanted to visit Prospect Park, so I started down Fulton St.
Fulton Park
12:00 PM
Tom Brady knows that hydration is the key to success and this Brady does too. A side-effect of this is that many of my adventures involve searching for a restroom. I found myself on such an adventure very early in my journey. It proved more difficult than I imagined, as there were not many public restrooms in Brooklyn. This park had some but they were sadly chained shut.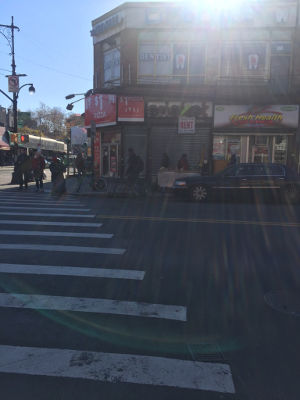 $1 Slice, Fulton St. and Nostrand Ave
12:18 PM
I've had a life-long infatuation with pizza so Brooklyn's abundance of cheap, delicous pizzerias was amazing. I hadn't eaten yet so when I passed this $1 slice joint on Nostrand Ave. I had to check it out.
$1 Slice
12:20 PM
This wasn't my favorite Brooklyn slice (that honor goes to the $2 slice at Kennedy Pizza and Chicken further up Nostrand Ave.) but it instantly triggered memories of elementary school cafeteria pizza. To be clear, the pizza tasted cheap but that's not a bad thing: the childhood flashbacks were worth the price many times over.
Brooklyn Museum of Art
12:48 PM
I still hadn't found a restroom and the situation was gaining urgency. I came across the Brooklyn Museum of Art but ignored it in search of better accessibility.
Empty Wallet
12:57 PM
I passed a couple of cafes but none of them seemed to have restrooms. Also, I spent my last dollar on that delicious slice of pizza.
Chase Map
12:57 PM
Fortunately, I discovered, there are Chase banks and ATMs EVERYWHERE in New York.
Brooklyn Public Library
1:03 PM
Ultimately, my bladder found salvation at the Brooklyn Library, although the bathroom wasn't easy to find.
Library Selfie
1:17 PM
Walking down Fulton St., I felt a little self conscious taking pictures on my phone. There were lots of people walking around who would openly stare with an expression like, "Why's this jerk taking pictures of that sign?" With my bladder relieved, I found a couple of fun art books to flip through while I charged my phone for a bit. I also took a selfie, just because.
Prospect Park
1:47 PM
After the library, I took a stroll through Prospect Park.
1:49 PM
I found a nice spot to sit and finish this book from the Playdom game designers book club which I've carried between four different apartments and across 12 states before finally cracking it open on this trip. WOW, this book is amazing! Very relevant to my current work.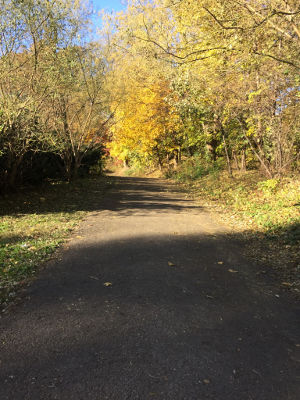 Prospect Park
1:57 PM
Autumn in New York is pretty magical.
Grand Army Plaza
2:03 PM
I still hadn't eaten a proper meal and was looking forward to some chicken over rice from a Manhattan Halal cart so I started walking again.
2:09 PM
First, I had to refill my wallet.
Barclays Center
2:20 PM
I passed by Barclays Center just as the Brooklyn Nets were wrapping up their game against the Portland Trailblazers.
Nets vs Trailblazers
2:23 PM
I'd been following the game on my phone for the past hour and was excited that it was so close. For those who don't know, the Nets are known for their famous owners: most notably Russian billionaire, Mikhail Prokhorov, and Brooklyn hustler, Jay-Z. They are also famous for short-sighted trades for washed up players like old Paul Pierce, Kevin Garnett and Timofey Mozgov for draft picks that became young superstars like Jaylen Brown, Kyle Kuzma, and Markelle Fultz (whom the Celtics turned into Jayson Tatum and Kyrie Irving). The Nets have been over-achieving this season and were competitive with the hot Blazers until the final seconds, when they choked away their lead. I sat outside and watched the sad New Yorkers stream out of the stadium, then bought a Nets beanie for $5 from a dude outside.
Effort
2:30 PM
Many believe that the the Bay has overtaken NYC as the wealthiest American city and that LA has claimed the food, art and culture crown. I don't know about all that, but I do know that this street art stopped me dead in my tracks and I can't remember the last time that happened. I'm uploading this one at full-res: it's worth your data.
Not all NYC pizza is good -- Avoid this spot on Flatbush
2:35 PM
I've eaten a lot of West-Coast pizza in my life and concede that NYC slices are in a class of their own. I've given a lot of thought to what makes them so exceptional since my inagural NYC trip last year. As a kid in LA, I experienced pizza in four ways:
Delivery: This could be either my parents bringing home a pizza for dinner (rare) or a delivery order with friends (common). Either way, the pizza was generally room temperature by the time it made its way into my mouth.
Party: Pizza is an obvious staple at any kid's birthday party but the low-key hero at community potlucks were the folks who brought pizza. The parents who spent the entire night before elaborately decorating each individual hor d'oeuvre might have looked down on them but they were heroes to all the kids.
Costco: I didn't experience this much since my dad and I would always get the $1.50 Polish dog and fountain drink but I have friends who swear by the $1.99 slices. These massive wedges are characterized by their large size, uncannily consistent toppings distribution and indulgently soggy dough. Now that I'm a grown man, I've been known to get a Polish dog AND pepperoni slice for pre-Costco lunch. Adulthood is sweet.
Birthday: As a kid, I'd get to pick a restaurant for my birthday dinner each year. Until around high school, when I pivoted to all-you-can-eat-sushi, I'd always pick a pizza place. This is notable for being the ONLY occasion I would enjoy fresh, hot, quality slices of pizza as a kid: once a year, on my birthday.
In college, I'd pick up an occasional late-night slice at Blondie's or Fat Slice but by then, my go-to was La Burrita. These slices were always kept warm under a heat lamp and served directly to you on a plate. Also notable is The Cheeseboard Collective, which served local, organic vegetarian pizzas that were quite delicious, but always had a long line and is only open during the day.
Not everyone is a fan of the Bay's veggie slices
In New York, each slice is moved from the display to an oven and heated to perfection while you wait. This result is a crisp, toasted dough (none of the sogginess characteristic of heat lamp slices) with a beautifully thick layer of melted cheese on top. Once handed your pizza, you turn and walk out the door and you're in bustling, vibrant NYC. Strutting down the street with a fresh Brooklyn slice is a wonderful experience and the inescapable reason NYC will remain the king of pizza for the forseeable future.
Manhattan Bridge Entrance
2:52 PM
I've crossed the Brooklyn Bridge twice before so I decided to walk the Manhattan Bridge this time.
Manhattan Bridge Path
2:55 PM
Unlike its westward neighbor with a clear view of Lady Liberty and a glut of tourists, the Manhattan Bridge was much more utilitarian, with chain links and non-descript buildings on one side and girders, trains and traffic on the other. Grimy.
Manhattan Bridge
2:55 PM
After a few minutes, there was a gap in the buildings and I caught a glimpse of a highway. Being from LA, I've seen plenty of highways and I was not impressed.
As an aside which will soon become clear, in Japanese garden landscape design, there is a concept called miegakure, or hide-and-reveal. Here is a description from japanesegardening.org.
Miegakure refers to this aesthetic when it is applied to landscape design. Vistas are artfully arranged so that they may not be seen in their entirety from a single vantage point, but constantly shift as the viewer progresses along designated routes or paths. Since the vistas move in and out of view as the visitor progresses along a route, the term is often translated as "hidden and revealed". The philosophy behind such an aesthetic concept is strongly allied to the Buddhist belief in the illusory or transitory nature of the physical world, and, in particular, to the Zen notion of the emptiness or nothingness of the universe as experienced directly and non-verbally (mu). Aesthetically, it relies on a manipulation of space and perspective. As Tadahiko Higuchi puts it, miegakure "relies heavily on the principle of overlapping perspective and involves making only a part of an object visible, rather than exposing the whole. The purpose is to make the viewer imagine the invisible part and thus create not only an illusion of depth but also the impression that there are hidden beauties beyond. Miegakure is, in short, a means of imparting a sense of vastness in a small space."
The "hide" is accomplished in a variety of ways, including leading the guest down challenging terrain (like a rock path through a stream) that draws their attention down toward their feet, then coinciding the terminal moment of relief and conquest with an upward gaze that reveals the most beautiful view of the garden. Why do I mention this? Well...
Brooklyn Bridge via Manhattan Bridge
2:59 PM
This view took my breath away.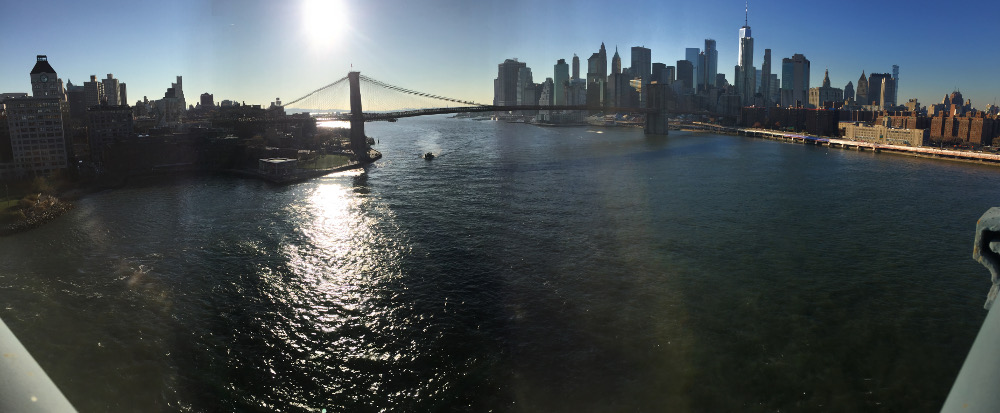 Brooklyn Bridge via Manhattan Bridge
3:04 PM
I mean, are you kidding me??
Brooklyn Bridge via Manhattan Bridge
3:11 PM
Stunning.
Chinatown
3:16 PM
Soon, I stepped off the bridge into the heart of Chinatown. What a contrast.
Harper's Bread House
3:32 PM
I was a little hungry so I picked up a pork bun and rice ball from this bakery.
Black Coffee at Stax
3:34 PM
I then walked a few doors down to a fancy dessert shop. Despite being known for their handcrafted ice cream, I only ordered a black coffee.
$1 Pork Bun
3:38 PM
This was a fantastic pork bun and only $1!
$2.25 Unagi Musubi
3:42 PM
This rice ball was tasty but for the price, I'd rather have a slice of pizza.
Williamsburg Bridge from the ground
4:09 PM
I'd walked along West Manhattan already so I turned East, knowing that I'd miss sunset over the Hudson. I came across the Williamsburg Bridge and knew I wanted to be on it. Unfortunately, I was already by the water and had to backtrack half a mile to the bridge entrance.
Williamsburg Brige Entrance
4:23 PM
Finally, made it!
Williamsburg Bridge
4:29 PM
This bridge was pretty ugly and the nice views were all obscured by fences. Hardly any tourists.
Williamsburg Bridge
4:30 PM
The ground was covered by interesting graffiti.
Williamsburg Bridge
4:31 PM
Despite being on the wrong side of the fence and the city, sunset over the Manhattan skyline was still beautiful.
Williamsburg Bridge
4:31 PM
The pink girders were a nice complement to the soft, warm sunset colors.
Williamsburg Bridge
4:32 PM
I love the layers of paint on this sign.
Williamsburg Bridge
4:33 PM
I was disappointed that all my pictures contained garish fence links in the foreground but I realized that they were integral layers to the city view.
Williamsburg Bridge
4:35 PM
Earlier in the week, the sky was pouring rain but the sky was crystal clear this entire day.
Williamsburg Bridge
4:37 PM
I didn't cross all the way to Williamsburg but the East River was quite nice.
Williamsburg Bridge
4:39 PM
It's not clear from this picture, but I was struck by the multiple moving layers as I walked. The fence, girders, trains, cars, lights, pedestrians and skyline were at different speeds and different distances and created a nice parallax effect. Maybe I should have taken a video.
Williamsburg Bridge
4:42 PM
Sunset behind the Manhattan Bridge from Williamsburg Bridge.
Williamsburg Bridge from Ground Level
5:09 PM
I turned around and headed back to ground-level Manhattan and continued to walk along the East River.
East River
5:09 PM
I've always liked walking/running by the water.
East River Park
5:14 PM
I was getting a little tired so I found a quiet spot alone to rest my feet. Between the beautiful autumn weather, I was surprised more people weren't out in the park.
East River Park
5:14 PM
Soon I realized I wasn't alone -- As the sun went down, the rats came out. Still, they didn't bother me so I didn't bother them.
East River Selfie
5:41 PM
This stretch of road was pretty unexciting so I started taking selfies as I walked.
East River Selfie
5:42 PM
Lots of cars, joggers and bikers on this road.
East River Selfie
5:45 PM
My urban style can best be described as Hobo Ninja.
Backpack
5:56 PM
Picking up a comfortable pair of walking shoes was a life-changing purchase and so was this backpack. On this hike, I carried my laptop, a book, a notebook, a light jacket, hat, gloves, scarf, phone charger and glassses for the entire 29 mile NYC hike and my back was fine. A good backpack is well-worth the investment.
East River Nightscape
6:04 PM
Pretty nice, but I was starting to get hungry again.
The Globe NY
6:38 PM
As expensive as NYC can be, I'm amazed by how much great food you can get for cheap. This burger and beer at The Globe was only $12 and was delicious.
The Globe NY
7:07 PM
I found a little private nook where I had a TV to myself and could stretch out my feet. The usual problem with nooks like this is that the wait staff can never see you. I was impressed by The Globe's use of mirrors, as they gave the bar a direct view of my table and they would swing by as soon as my glass was near empty.
The Globe
8:15 PM
I utilized the mirrors for a quick self-portrait.
Hobo Ninja
8:25 PM
Then I suited back up...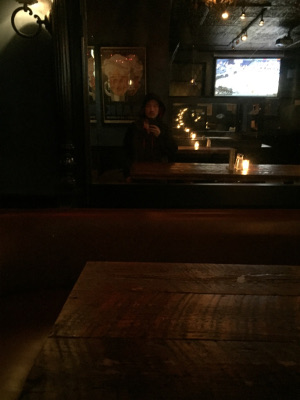 Hobo Ninja
8:26 PM
...faded into the shadows...
Madison Ave
8:42 PM
...and was back on the street.
8:43 PM
I wanted to walk through Central Park and head back around midnight so I set off with Columbia University as my destination.
Coach Selfie
9:02 PM
Walking up Madison Ave. on Black Friday was quite different from Fulton St. in Bed-Stuy. I was the same person, but I went from being a harmless street oddity to a threatening weirdo that the obscenely rich pedestrians would eye nervously as I walked past. In both cases, my trick was to maintain a fast walking pace so I'd be gone before anyone was inclined to give me more than a passing thought.
Rockefeller Center
9:13 PM
I was close to Rockefeller Center so I swung by to check it out. It was a madhouse!
Rockefeller Crowd Walk
9:19 PM
I really like walking through large crowds, contorting my body and slipping through seams without breaking pace. Here's a fun chest-level view of what that looks like.
Uggs, Manhattan
9:34 PM
In case you're curious about the hottest style in NYC, it's poofy fluffs on Uggs.
Central Park Entrance
9:46 PM
Finally made it to Central Park!
Central Park
9:53 PM
I saw signs saying the park was closed after 10pm but there were some people walking around and the paths were all lit. I was a little nervous that it would be dangerous at night, like say Golden Gate Park or People's Park, but there were no vagrants (aside from a few rats) and I felt completely safe.
Metropolitan Museum of Art - Backside
10:10 PM
While walking through the park, I stumbled across the Met.
Ninja Hobo Selfie
10:12 PM
Selfie time!
Metropolitan Museum of Art - Front
10:18 PM
Lutetia once told me she likes that I'm an artist but is sometimes disappointed by what kind of artist I am. What she meant is that she likes to go inside museums during the day while I'd rather creep around and take pictures outside late at night. Hey, relationships are hard.
John Purroy Mitchel Memorial
10:28 PM
If I die without a sculpted bust of my head somewhere prominent, I'll consider it a wasted life.
Jacqueline Kennedy Onassis Reservoir
10:36 PM
Even late at night, there were many people jogging and walking dogs around this huge lake in the middle of Central Park. This was my last clear view of the Manhattan nightscape.
Central Park Bench
10:47 PM
Foot fatigue was really starting to set in so I took a quick rest on this bench.
Central Park Bench
10:47 PM
Just me and the rats.
Morningside Park
11:05 PM
I made my way out of Central Park but ended up in another park.
Morningside Park
11:16 PM
This one had a lot of stairs and dead ends.
Morningside Park
11:21 PM
Water makes me happy.
Morningside Park
11:22 PM
Finally, I found a non-dead-end exit.
Riverside Park Map
11:43 PM
Columbia was locked up and guarded so I visited the Hudson River one last time.
General Grant National Memorial
11:47 PM
On my way to the subway, I passed Grant's Tomb. Maybe it's more impressive during the day.
Halal Truck
11:58 PM
Outside Columbia was a Halal Truck so I picked up one more meal for the road.
Lamb on Rice
12:02 AM
I usually get chicken on rice but thought I'd try the lamb instead this time. The chicken is better.
Harriet Tubman Memorial, Harlem
12:20 AM
The 116th St. subway was closed so I walked up to the 125th St. station through Harlem.
125th St. Subway
12:29 AM
Once I made it to the subway, it was a direct 29 stops down the A-line back to Brooklyn.
A-Train
12:31 AM
And so concludes my 29-mile Black Friday NYC walk!
---